Concert Club
Toyota Center is dedicated to enhancing the concert-going experience for our VIP customers.
We understand that hassle-free parking and spending less time waiting in line at the bar or restrooms is important to you. That is why we are offering you the opportunity to purchase Concert Club passes for select shows, held in our new Golden Nugget Club! Whether it's a special night for friends and family or hosting clientele, let us help make your night unforgettable!
Golden Nugget Club
Located on Toyota Center's event floor, in the Tundra Tunnel under section 111, the Golden Nugget Club features modern décor, stylish furniture, a club like atmosphere, a full bar and plasma televisions and private restrooms.
Upcoming Concert Club Events
*We are currently not offering Concert Club for any upcoming concerts or live entertainment events at this time.
Concert Club Pass Amenities Include:
Admission to the Golden Nugget Club
Private cash bar
Private restrooms
Parking Pass for the Adjacent Tundra Garage (limit 1 parking pass for every 2 Concert Club passes purchased)
Access to the Toyota Center Sky Bridge Entrance connected to the Tundra Garage
The Golden Nugget Club is located under section 111, on the floor.
Admittance to the club is one pass per person. Children are permitted with a pass.
Club passes are not associated with any other packages that the tour may be selling.
This pass does not grant you access to the concert. All guests must have a ticket.
Access to the club begins at the time general doors open to the public. Toyota Center is not responsible for arena doors opening after the expected time.
The concert is not shown on TVs in the club.
Wristbands are available for pick up once doors are open to the general public at any of the following locations: Sky Bridge Registration desk, LaBranch Guest Relations desk or at the Golden Nugget Club entrance, located under section 111.
Parking passes will be sent electronically the day before the show date, once the offer closes, and you will receive them via Axs Mobile ID. Limit 1 parking pass for every 2 Concert Club passes purchased.
If you have previously purchased parking, upon purchase of a Concert Club pass, you will be refunded the amount you paid for that parking. Please allow 5-7 business days from the show date for refunds.
Club location is subject to change, based on tour production space needs.
The pass is non-refundable.
A confirmation email will be sent to all purchasers with further instructions once the offer closes.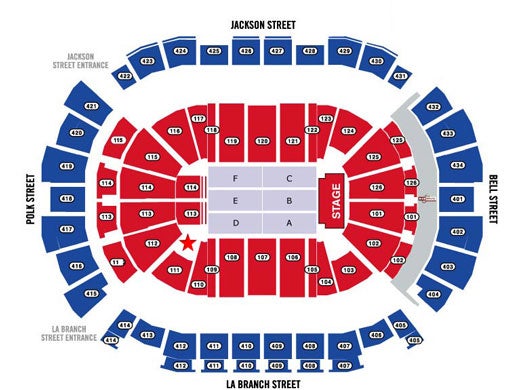 More Information
For more information on the Concert Club please contact Eric Martin at 713-758-7437 OR email at emartin@rocketball.com.